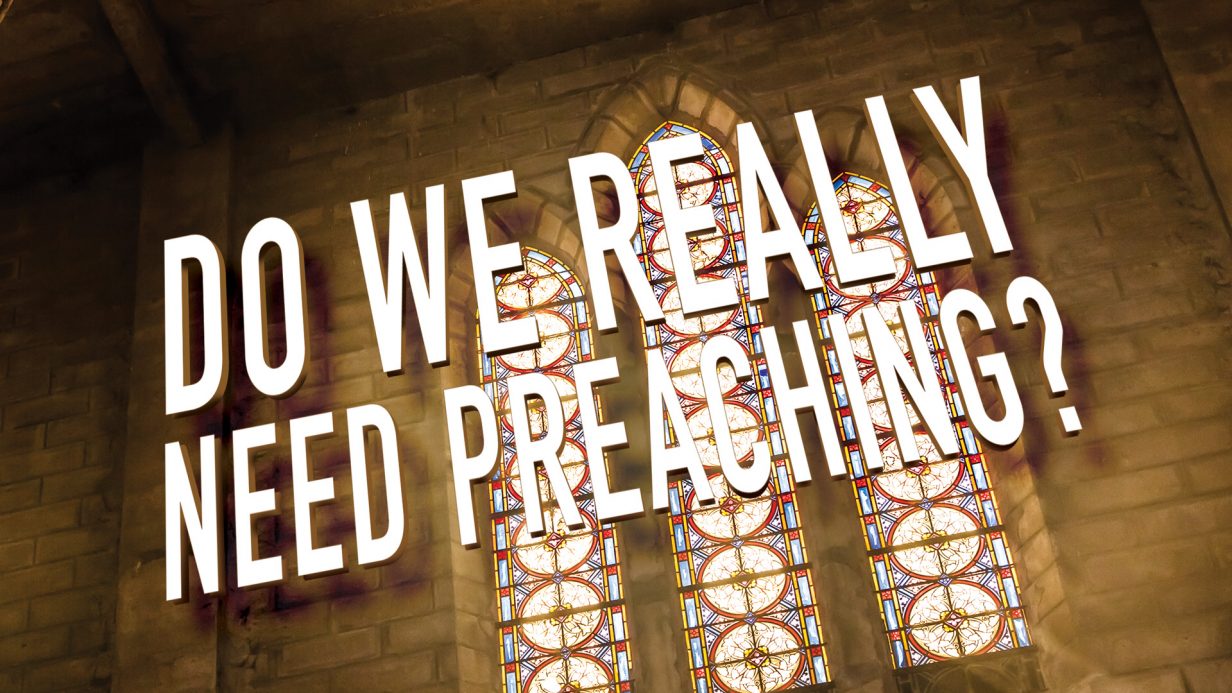 There is an anecdote told of a holiness preacher who was asked to speak at a church. He prayed about it and the Lord confirmed that he was to go. The date for his visit was set. When the time came for the service, the minister arrived at the church to find it open and heated, but empty. He was certain the Lord had told him to preach at this church on this date and for a moment, he was confused.
Determined to obey the Lord, he went to the pulpit and poured out his heart to unfilled pews.
Several years later, he was in Union Station in Chicago when a young man came up to him and said, "You don't know me but I know you. I've wanted to meet you for many years. Do you remember the time you preached to an empty church?"
The minister raised his eyebrows and said, "Yes, I remember. How do you know about that?" The young man told him, "I was there that night. In the basement. I was the janitor of that church and had come to turn on the heat. I was about to leave when I heard you begin to preach. I listened to your message through the grates of the furnace and the Lord convicted me of my sins. I gave my heart to the Lord and was called to preach the Gospel. I just finished a revival here in Chicago and more than 400 people accepted the Lord."
This story has been shared for decades. Some call these kinds of narratives "preacher stories" because of how often they are used in sermons. Maybe they have fallen out of fashion.
Do we need preaching in the contemporary church service? Why don't we all just sit and wait for a manifestation of a gift of the Spirit to bring us revelation from God? Why don't we have all singing or a discussion format or a drama acted out each week in the place of preaching? Is it still relevant in today's church for one person to address the congregation with preaching from a Bible text? Isn't that a little old fashioned? What is preaching anyway?
Dr. Elias Rodriguez is an instructor for the Church of God of Prophecy (COGOP) Center for Biblical Leadership. He travels all over the world teaching, among many other things, preachers to preach. He says, "Preaching is the proclamation of the good news of Jesus Christ by living witnesses, who have experienced in their own lives the transformational power of God, to both sinners who need to be brought into a relationship with God and to God's people who need to be aligned with God's kingdom and purposes."
Preaching: A Tale as Old as Time
Words were created by God, employed by God, esteemed by God. Words are important. And God gave us the gift of speech so that we could communicate His words with each other and the world. John A. Broadus, scholar, teacher, preacher of the 19th century stated: "Preaching is characteristic of Christianity.
No other religion has made the regular and frequent assembling of groups of people to hear religious instruction and exhortation an integral part of worship."
But preaching didn't begin with Christianity. Speaking admonitions and instructions from God took place before the time of Jesus. Old Testament preachers included Isaiah, Jeremiah, Daniel, Amos, as well as others. They spoke and wrote the words the Lord gave them for His people and world leaders.
"During Israel's return from exile, when all the people gathered to hear the law, Ezra and all the Levites traveled among the people and explained it to them. They read from the book, from the Law of God, clearly, and they gave the sense, so that the people understood the reading" (Nehemiah 8:8). "You must speak my words to them, whether they listen or fail to listen, for they are rebellious" (Ezekiel 2:7). "Son of man, I have made you a watchman for the house of Israel; so hear the word I speak and give them warning from me" (Ezekiel 3:17). Even David laid claim to speaking for God. "The Spirit of the Lord spoke by me, and his word was on my tongue" (2 Samuel 23:2).
Jesus Preached and Told His Disciples to Preach
"Jesus began a tour of the nearby towns and villages, preaching and announcing the Good News about the Kingdom of God" (Luke 8:1). "Now after that John was put in prison, Jesus came into Galilee, preaching the gospel of the kingdom of God, and saying, 'The time is fulfilled, and the kingdom of God is at hand: repent and believe the gospel'" (Mark 1:14). "And he (Jesus) sent them to preach the kingdom of God, and to heal the sick" (Luke 9:2).
And today's disciples continue to be called to preach. Paul Holt, Director of Finance and Administration at the International Offices, knows this after many years of pulpit ministry. "The only reason that I preach is because I am called to do it. I do not feel it fits with my natural inclinations, but God called me, anyway. I would not have chosen preaching to be my vocation, but God chose me. As such, I am confident that I cannot do it without His help." Dr. Rodriguez, when asked why he preaches, replied, "I preach because it is the way Jesus communicated His message."
The Bible Tells Us to Preach
"And as you go, preach, saying, 'The kingdom of heaven is at hand'" (Matthew 10:7). "Preach the word of God. Be prepared, whether the time is favorable or not. Patiently correct, rebuke, and encourage your people with good teaching" (2 Timothy 4:2). Ministers are not the only ones who have a responsibility when it comes to preaching. Those listening are instructed to believe. "Receive with meekness the implanted word, which is able to save your souls" (James 1:21).
Is preaching a scriptural mandate? "Yes," says Cathy Payne, Global Missions coordinator for the COGOP. "I believe the prophetic voice is a scriptural mandate and I believe preaching is a form of the prophetic. Preaching is an illumination of God's Word to people and it is more needed today than ever before." Dr. Rodriguez added, "Paul was commissioned by Jesus to 'preach the gospel' and Paul, in turn told Timothy to 'Preach the Word.'" The Bible tells us to preach.
Preaching Teaches People How to Read God's Word
Keeping the Bible central to the life of the local church, especially by preaching Scripture, teaches people how to read the Bible. The power and wonder and truth of the Bible are most effectively communicated by anointed, faithful preaching. Preaching connects us to the power of God. God's power in His spoken Word formed the world and everything in it. We find in the Word that God's power brought redemption from Adam's failure by instituting the blood sacrifice. Throughout the Bible, God's power kept His plan on course, using flawed humans. God fulfilled "every promise in the Book" and brought salvation through Jesus and the indwelling of the Holy Spirit. Preaching connects God to Israel, Israel to Jesus, Jesus to the church. When God's Word is the focus in the church, hearing it will help people know how to read it and give them a hunger to dive into it for themselves.
Preaching Changes Lives, One Week at a Time
"How was church? "Great!" "What did the pastor preach about?" "Umm . . . about 30 minutes?" What good is it for a minister to study and prepare and preach if the listeners are going to forget everything they heard? Contrary to what we think, we do not forget everything we hear. Most of us can remember the concepts we heard preached in sermons and specific sermons that changed us: how we think about God, marriage, money, etc. Do not believe the untruth that preaching is ineffective. Preaching changes people.
Bishop Holt spoke to this concept of change that comes from preaching: "I have shared things that came from God and I have seen those things bring transformation to people's lives. It is the evidence that has convinced me of the importance of preaching. It is not the only thing, but it is an important thing."
But do we need preaching on Sundays? Can't we leave preaching to every now and then or to the guy on the street corner? Consider this: God began the weekly rhythm at Creation. In Genesis we see the Scriptures mark the days of the week. And since Creation, Sunday comes around every seven days. Like the daily manna in the wilderness, preaching has an expiration date. Come Sunday, folks are famished and need to be filled once again. It may be that the messages we hear preached are only meant to get us to the next Sunday! Sermons don't have to remain with people throughout eternity. They're meant to sustain one week at a time. Why else would Hebrews 10:25 admonish us to not forsake assembling together?
By faithfully preaching the Gospel, the preacher reveals people's hearts to themselves, gives them the power to make judgments that liberate them, and imbues them with the certainty, confidence, and gladness to overcome trouble and sickness and hell itself.
Why do you preach? Sister Payne put it this way: "I preach out of my passion for the Lord and passion for humankind. I preach out of my calling from the Holy Spirit and the calling out that comes from those who need Him. I preach out of my availability— the Spirit's faithful availability to anoint and use me and my availability to Him and His use."
We need preaching. Until heaven. And there, our faith in the Word made flesh will become sight. He will remain with us forever. And the need for preaching will end.