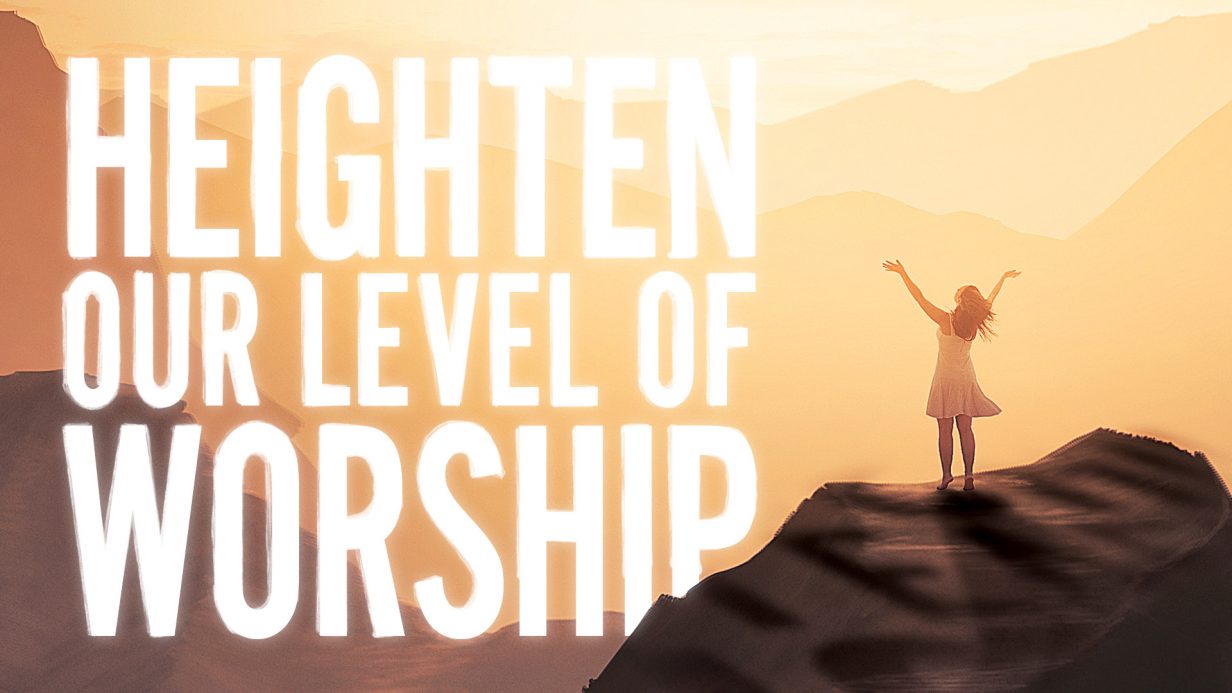 Dr. Phillip E. Davis, Sr. |Chapel Hill, North Carolina
  How does one heighten their level of worship? Heighten is a verb which expresses an action of some type. Heighten is defined as the ability to increase the amount or degree of doing something; to make brighter or more intense; to bring out more strongly; to make more acute; to raise to a higher level; or to raise above the ordinary. I encourage you to pick one of these definitions in regards to your approach to worship from henceforth. Any one of these definitions will do! Now that we have a definition of heighten, let us focus on what it means to worship. Worshiping God and our Lord and Savior Jesus Christ requires, at a minimum, having a relationship with them. Relationship is defined as the way in which two or more people, groups, countries, etc., talk to, behave toward, and deal with each other. How do you behave or deal with God and His Son, Jesus Christ? How would you define your relationship with God and His Son, Jesus Christ?
I submit that the higher your relationship with God and His Son, Jesus Christ, the higher your level of worship. Since God owns everything, and I mean everything ("For every beast of the forest is mine, and the cattle upon a thousand hills. I know all the fowls of the mountains: and the wild beasts of the field are mine. If I were hungry, I would not tell thee: for the world is mine, and the fullness thereof." Psalm 50: 10–12), the only thing that we can give Him that He does not own is worship! The meaning of worship and the way each of us expresses our worship to God is going to be different. However, there are a few common elements associated with worship. Let's explore these.
Worship is voluntary! God does not make us worship. Worship is free! Worship doesn't cost us anything! Worship is critical in the life of a Christian. Worship is not a spectator event! God loves worship! In fact, He loves worship so much that He bountifully blesses those who worship Him. The more we worship, the more we are blessed. It is important to understand that we do not worship the Lord for the blessings, we worship the Lord because He is God and worthy to be worshiped. The blessings are a byproduct.
Many Christians do not understand the true meaning of worship nor do they understand how to worship. The church is full of spectators defined as people who closely observe what is going on as opposed to participating in what is going on. Many church leaders fail in their attempt to adequately explain the meaning of worship to their congregation. This point was documented in a study by Dr. George Barna wherein he "found that a common obstacle to facilitating real worship is that the church's leaders do not understand what worship is and isn't. Despite seminary education and denominational guidance, a shockingly high number of church leaders have no real understanding or philosophy of worship" (Source: https://www.barna.org/). Dr. Barna also found that, "Among adults who regularly attend church services, one-half admit that they haven't experienced God's presence at any time during the past year."
Worship is a matter of the spiritual heart; you have to feel it! You have to put your body in it! There is a spontaneous movement of our body parts when one is in the presence of the Lord. Most Christians cannot sit still in the Lord's presence. You begin to bow your head, clap your hands, sing praises, lift your hands, kneel down, stand up, shout with joy, pray, and proclaim the greatness of God. It is rather difficult to sit still and worship.
Richard J. Foster, a leading writer and speaker on Christian spirituality stated, "The Bible describes worship in physical terms. The root meaning for the Hebrew word we translate worship is 'to prostrate.' The words bless literally means 'to kneel.' Thanksgiving refers to 'an extension of the hand.' Throughout Scripture we find a variety of physical postures in connection with worship: lying prostrate, standing, kneeling, lifting the hands, clapping the hands, lifting the head, bowing the head, dancing, and wearing sackcloth and ashes. During our worship, we are to offer God our bodies as well as the rest of our being. Worship is appropriately physical" (Source: http://www.quakerinfo.com/foster.shtml).
How often should we worship? David gives the answer in Psalms 34:1—"I will bless the LORD at all times: His praise shall continually be in my mouth." Why is a continual state of worship important to us? Because it pleases God and results in power. Revelation 4:11—"Thou art worthy, O Lord, to receive glory and honor and power: for thou hast created all things, and for thy pleasure they are and were created."
Results of worship—power and blessings are the reasons for worship. God grants power to those who worship. The more intense our worship, the more intense is the power received; power to make a difference in our lives; power to make a difference in the lives of those we touch; power to carry on the work of Jesus Christ in the church, in the community, and throughout the world. Worship is not working with church ministries. Working with church ministries is a byproduct of worship. Robert E. Webber, Christian scholar, says, "For years, the church has emphasized evangelism, teaching, fellowship, missions, and service to society to the neglect of the very source of its power—worship." Let's heighten our level of worship and testify to the results.