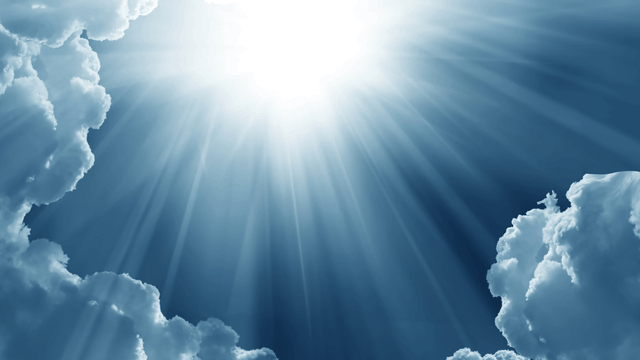 Editor's Note: Our sweet friend and frequent contributor Ashley Guidry passed on to his heavenly reward on Wednesday, March 30. Brother Guidry loved to write and he loved the White Wing Messenger. I thought this was a fitting article to remember him by. Thank God for the hope that we will see him again.
This bit of writing is based upon an old Sunday school lesson that was composed in 1996. The intent of that lesson was to know the teachings of His Word, our faith in His promises, and the strengthening of our hope of being resurrected just as Jesus arose from the dead so we too, shall also arise. The hope that we have, as believers, is that some day we will be with the Resurrected Christ. We must also realize that if Jesus had not risen from the dead, we would have no grounds in any way, shape or form, for our hope.
We thank God for Jesus gaining the victory over death and the grave, for breaking the bonds of death, so that every believer in Him shall come up from the grave on that day when He calls us forth to be with Him. The promise of "Blessed are those who have not seen and yet believed" will be fulfilled.
Paul wrote the following in1 Corinthians 15:19: If in this life only we have hope in Christ, we are of all men most miserable. Those who do not believe in the resurrection will realize no delight in their life here, and will find no happiness beyond. The most terrible blow to all who have suffered and sacrificed much in this world, in their undaunted belief that Jesus was the promised Messiah, would be to lose out in the final moments on the promise of the Resurrection. We must hang on to these words of Christ; "Because I live, ye shall live also." As the world continues to roll on, those who have hope in this life, only, can look forward to increasing miseries every day; to non-ending lawlessness; to continued violence; destruction and death. These occurrences, or events, will not deter the faithful to the Resurrected Christ, who are waiting for His soon return to take away His own to the places He has prepare for them.
And the graves were opened; and many bodies of the saints which slept arose, And came out of the graves after his resurrection, and went into the holy city, and appeared unto many. (Ma. 27:52-53). As Jesus uttered His last cry from the cross, an earthquake erupted and the veil of the Temple in Jerusalem was split in two. This veil had hidden the Holy of the Holiest from the eyes of all except the high priest on his annual visit during the Day of Atonement. This splitting of the veil symbolized that the ceremonial law was destroyed and ­­ a way to God was guaranteed to all men. The graves of the saints were opened at the moment of the quake, and these saints were seen and recognized by many in Jerusalem. There are no records of the names of these saints or for how long they remained alive or of really anything that happened afterwards. Yet, they were the firstfruit of all who sleep in Christ. It is clear that they disappeared and were not like Lazarus who was visited after his resurrection.
We will add verses 12-15 from First Corinthians 15:12-15: Now if Christ be preached that he rose from the dead, how say some among you that there is no resurrection of the dead? But if there be no resurrection of the dead, then is Christ not risen: And if Christ be not risen, then is our preaching vain, and your faith is also vain. Yea, and we are found false witnesses of God; because we have testified of God that he raised up Christ: whom he raised not up, if so be that the dead rise not. Paul had a problem for a while with the Corinthian church. In its midst, there was heresy, false doctrine, pride and ignorance. Some were unconcerned about life beyond the grave. He attempted to straighten out their thinking regarding the resurrection of Christ. They had heard many reports of eye witnesses who had seen Jesus after His resurrection, yet found this hard to believe. They were victims of the Sadducees' viewpoints that there was no life after death and so could not believe in Christ's Resurrection and Ascension.
Lets look at three more verses, 16-18 from this 15th chapter—For if the dead rise not, then is not Christ raised: And if Christ be not raised, your faith is vain; ye are yet in your sins. Then they also which are fallen asleep in Christ are perished. Paul continues to explain to these people that if the dead rise not, then Jesus did not rise, and those who had looked to Him for salvation seemed to have based their hope on an untrue foundation.
When Jesus arose from the dead He became the firstfruits of those who had fallen asleep. Verse 20 says; But now is Christ risen from the dead, and become the firstfruits of them that slept. Paul was referring to believers in Christ who had died, and so, whenever firstfruits" is mentioned, we tend to believe that this is a symbol or sign of the beginning of a harvest. So, if Christ is the firstfruits then we who believe in Him will be the harvest for we will follow Him and share in His Resurrection. He is the Head and where the Head is there should be a Body also. The Resurrection of Jesus strengthens Christian truth. Look at the following points that Paul makes. (A) If Christ be not risen, then our preaching is in vain. (B) Our faith is in vain. (C) The apostles must be charged with being false witnesses. (D) We are yet in our sins for we would not know if Christ's death took away our sins (had not God raised Him up thereby proving His atoning works). (E) We would perish and all would be lost. (F) The apostle, Paul, shows that if Christ be not risen then we of all men are most miserable. We would have endured sufferings, persecutions, tribulations and denied ourselves of all of the things of this world for Christ's sakes, and in the end we will have found death.
What we really know and believe and have faith in is this; we have the promise that we shall be changed in the twinkling of an eye; the dead in Christ shall rise first, and those who are alive will be caught with them in the clouds!