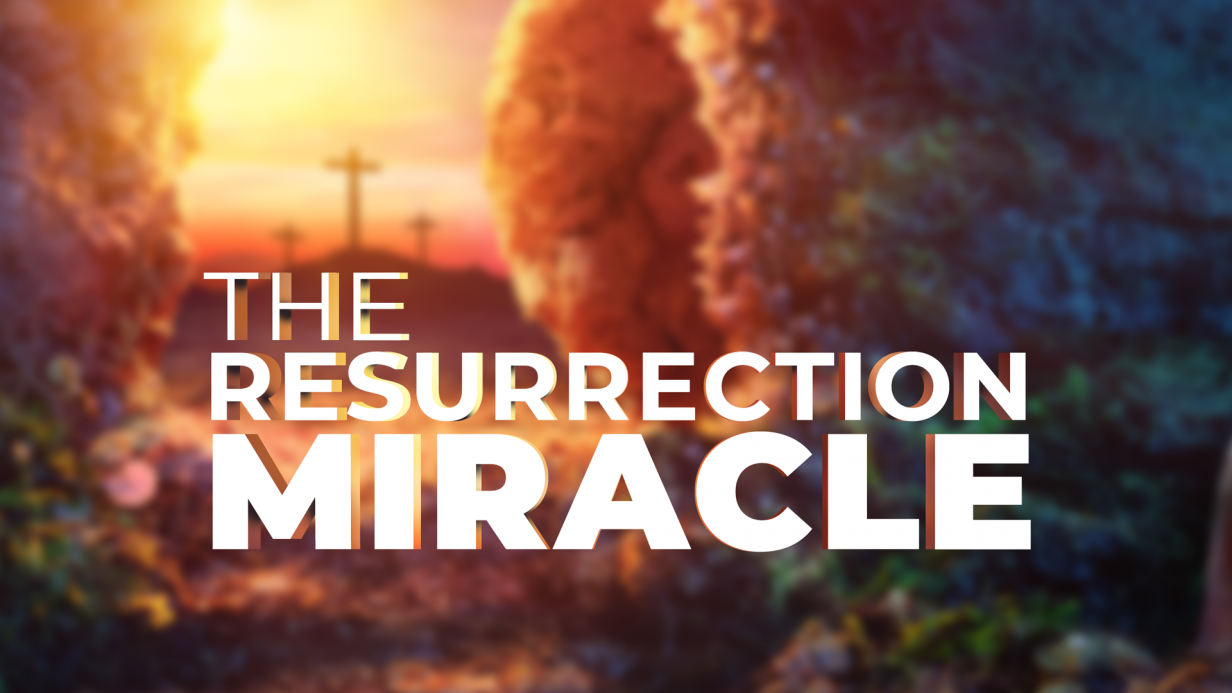 Kenneth Dyer | Knoxville, Tennessee

"Praise God, the Father of our Lord Jesus Christ. God is so good, and by raising Jesus from death, he has given us new life and a hope that lives on" (1 Peter 1:3 CEV). Thomas Jefferson, one of the founding fathers of the United States of America, "was devoted to the teachings of Jesus Christ." However, further study shows that he did not subscribe to many of the miracles of Jesus, which are recorded in the four Gospels. So, six years before his death, he put together what is called, the Jefferson Bible; and titled it "The Life and Morals of Jesus of Nazareth." His story, 84 pages, concludes with Christ's entombment but omits the resurrection: "Now, in the place where he was crucified, there was a garden; and in the garden a new sepulcher, wherein was never man yet laid. There laid they Jesus and rolled a great stone to the door of the sepulcher and departed." This is such a sad commentary.
Without the miracle of the Resurrection, there would be no hope for any future; no new life. Moreover, according to the apostle Paul, in 1 Corinthians 15:12–21, if there is no resurrection miracle, not only is our faith vain, but we are still in our sins. Those who have died, are perished; the apostle Paul, a false witness. If Jesus was not raised from the dead, He becomes either a liar or a lunatic. He himself said, "Destroy this temple and in three days I will raise it up again (John 2:19). Praise the Lord! Jesus is Lord and He has risen! He not only is alive and well, but "He lives forever with His saints to reign." Because He lives, the power of the Resurrection miracle continues to be expressed.
While growing up under the ministry of my grandfather, the late Bishop P. T. Weaver, we often heard of accounts of the miraculous and we believed that things outside of the natural order of things do occur. It was not difficult to embrace the power of God.
One such account involved my mother, the second oldest of 10 siblings. When she was very young, she was diagnosed with a very rare, and possibly fatal, skin disease. At the time, there had only been one other case in this area, and it ended in death. My grandfather had been struggling with the ministerial call from God. He cried out to God for mercy and grace. He accepted his calling and God miraculously healed my mother. She lived to be 83 years young. Both of her sons are bishops in the Church and one grandson is an evangelist. The Resurrection miracle is yet active.
In the beginning of Jesus' earthly ministry, He was filled with the Holy Ghost and power. I like what the Message Translation says in Acts 10:37. "Then Jesus arrived from Nazareth, anointed by God with the Holy Spirit, READY FOR ACTION" (emphasis mine). He did not shy away from messing with the devil; wherever He saw the works of the devil, He destroyed them (1 John 3:8). When He saw the blind, He opened their eyes; when He saw the deaf, He opened their ears; when He saw the sick and afflicted, He healed them; when He saw the lame, He made them walk. I heard someone say that folks could not even have a decent funeral when Jesus was nearby because He would raise them up. It was not normal for the blind to recover their sight; the deaf to regain their hearing; the afflicted to be healed; nor the lame once again have use of their legs; and, certainly, for the dead to come back to life. These were all miracles. A miracle is an event in which God temporarily makes an exception to the natural order of things to show that God is acting. We could rephrase it and say an event caused by a direct act of God in which the laws of nature are suspended in order to accomplish a purpose for which the set laws of nature would be inadequate. He could execute these miracles because He was in fact, the Resurrection and the life (John 11:25). He is THE miracle worker!
On October 8, 2001 Richard Reynolds, 18, member of the HCF youth group, was working the midnight shift at one of the Pilot stores here in Knoxville. In the early morning hours, several men came in, armed with hand guns, and robbed the store. That was not enough. At gun point, they took him outside to a small grassy knoll, forced him to his knees, placed a gun to the back of his head, behind his ear, and shot him execution style. By the time the police arrived, there was no heartbeat. He was not breathing—all indications were Richard was dead. They had called the homicide detectives and the coroner. The on-scene officers had checked him more than once, hoping to find life. For roughly 20 minutes, Richard was dead. Suddenly, he gasped for air. He could feel his heart beating and the blood began to flow through his veins. HE'S ALIVE! As he tried to raise up, blood began to gush forth. Pandemonium broke out. A MIRACLE! Today Richard is 35 years old, married with two children, and working in a local church. Yes, a divine miracle.
In our modern time, with the advent of constant medical breakthroughs, there are so many physical conditions that were once permanent or fatal, which are now being reversed by new medical procedures. Many of these are called "the miracle of modern medicine." However, with all of man's advancements, God remains the true miracle worker. Divine miracles remain in the hands of the Creator. The greatest miracles are not the opening of the blind eyes, making the lame to walk, healing the sick and afflicted, or even, raising the body from physical death. But rather, because of the resurrection miracle, the true miracle of miracles, involves the inner man. The spiritual man being reborn! A person blackened by sin, shame, hopelessness, confused, and living in darkness can be washed with the blood of Christ and made white as wool: "Come now, and let us reason together, saith the LORD: though your sins be as scarlet, they shall be as white as snow; though they be red like crimson, they shall be as wool" (Isaiah 1:18). No longer to live in darkness: "But ye are a chosen generation, a royal priesthood, an holy nation, a peculiar people; that ye should shew forth the praises of him who hath called you out of darkness into his marvelous light" (1 Peter 2:9).
Spiritual eyes can be opened; the spiritually crippled can now walk; the spiritually deaf ears can hear again; and our spirits can be QUICKENED and made ALIVE! We can now know new meaning of life; we can make sense of the mess we experience; we can know true love, unconditional acceptance, intimate understanding, permanent and continuous loving relationship with Christ; we can know peace and we can know joy: "Now we have received, not the spirit of the world, but the spirit which is of God; that we might know the things that are freely given to us of God" (1 Corinthians 2:12).
Because of the Resurrection miracle, we have a future, we can know the reality of paradise—perfect peace, perfect joy, no death, no pain, no suffering, no tears, perfect harmony, and life everlasting. "It is a trustworthy statement: For if we died with Him, we will also live with Him; if we endure, we will also reign with Him" (2 Timothy 2:11, 12 NASU).